The Euromold International Show 2005 5th to the 8th December 2005
OneCNC Deutchland exhibited at the Euromold International to show the OneCNCXR2 range of CAD/CAM solutions.
EuroMold 2005 had 1,552 exhibitors from 44 countries. The exhibition was spread over 5 exhibition halls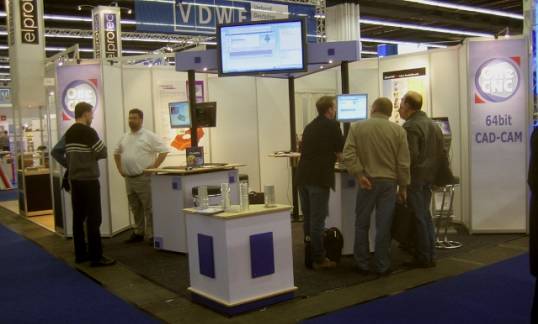 Here we see Stephan OneCNC Germany (right) demonstrating OneCNC products.
This was the first Euromold show for OneCNC Deutchland and was attended by Uwe OneCNC Germany, Stephan OneCNC Germany and Bob from OneCNC Australia.
The show was very busy right up to the last minute on the last day.
Frankfurt really turned on a cold spell Bob OneCNC Australia left Australia about 32 hours earlier at 32 degrees C only to find in Frankfurt Germany is was about minus 12C.
Bob OneCNC Australia (left) with Uwe OneCNC Germany (right) de-icing the car to go to Euromold. The next morning was a repeat not quite so cold but much more snow.
The show was very successful overall and it was decided there and then to participate in the next Euromold in 2006.